SD Entrepreneurs is a meetup group and online community for online marketers and entrepreneurs, based in San Diego and the surrounding area. The group has grown to nearly 600 members in the space of 2 years and meets once a month at WeWork in downtown San Diego. Being an entrepreneur can often be lonely and having the ability to meet and share ideas with other members has been a great benefit to all our members.
Many people have asked me, "How did it all begin?" Well, here is the back story.
The Back Story
In September 2016, a post appeared in the Smart Passive Income Facebook Community:
Nothing very special you would think. However, this small meetup in a wooden boat near San Diego Airport was to be the start of one of the largest meetup groups in San Diego.
By noon on that day, the wooden boat was full of local entrepreneurs and people in town for FinCon. We discussed our online businesses, mixed in with the interruptions from planes flying over, and got to know each other. For me, it was a chance to meet Pat for the first time and talk about online business, something I was still very new to.
As the meetup drew to a close, a small group of us approached Pat with the idea of meeting up again. We were from the San Diego area and all had some sort of online business, so it seemed like a good idea. To our surprise, Pat agreed and suggested we get together and plan a follow-up event.
SD- Entrepreneurs – The First Meeting
A few weeks later five of us arranged to meet again to plan our first meeting – Sarah Argenal, Andrew Nicoletta, Michael Pasha, Nigel Wright and Sarah Wright. We agreed on a date and, with the help of Pat and his team, we found a venue in North Park, San Diego. We all agreed to invite people from our network. On the day, we were into double figures.
From there we agreed that we would aim to meet once per month. It was still very informal, but we were enjoying the mindshare and community feel.
SD- Entrepreneurs – WeWork San Diego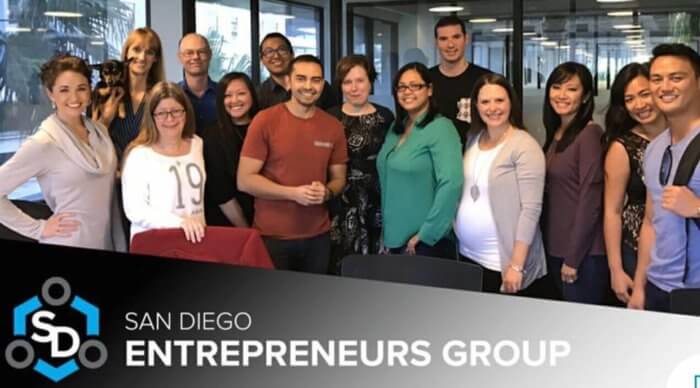 Pat had recently taken out a WeWork membership and had talked to WeWork in San Diego about using their office space. They were very supportive and we agreed to meet at WeWork the following month.
This was where the group really started to take shape. We set up the SD Entrepreneurs Facebook Group as our online base. Pat also registered the sdentrepreneursgroup.com domain. We had an online presence and a forum to communicate and exchange ideas.
We also decided that we should try to organize an open event to further promote the group. It was to coincide with Social Media Marketing World in February 2017, with the aim of attracting a larger audience.
We thought it would be a great opportunity to get some visibility for the group and maybe we could get some online influencers to join us while they were in town for the event. We approached WeWork to see if we could use their terrace. They happily agreed and offered to publicize the event to their membership.
A registration site was set up and we set about organizing the event. Meanwhile, a steady stream of people began signing up for the SD Entrepreneurs Facebook Group.
SD Entrepreneurs – The First Big Event
The invitations had gone out and members of the group had reached out to fellow entrepreneurs in the area, but non of us were prepared for quite how many people would actually turn up.
A few of us reached out to people attending Social Media Marketing World and invited them along. Joel Comm, John Lee Dumas, Kate Erickson, Darren Rowse, they all wanted to come along. Except for Chris Ducker, who had a better offer – a steak dinner with Michael Hyatt. Difficult to compete with that.
In the end, over 300 people attended and networked well into the evening. SD Entrepreneurs Group was truly on the map.
We have since repeated this event in 2018, this time midway between Social Media Marketing World and Traffic and Conversion Summit.
SD Entrepreneurs – Now in 2018
The group is now 2 years old and is closing in on 600 members, with new people asking to join on an almost daily basis. Many friendships and business partnerships have developed between group members and we continue to attract members from as far as Sweden and Brazil (and yes they do attend our events, when they are in town).
We still meet at WeWork on the first Wednesday of every month and usually have 30-40 people attending.
Pat tries to attend every month and demonstrates that a leading online influencer can still enjoy informal face to face events. We have also brought in a few other famous names including:
Personal brand expert, Chris Ducker, all the way from the Phillipines.
Book publishing coach, Azul Terronez, all the way from Austin, Texas
Online marketing and social media marketing expert, Amy Porterfield, all the way from down the road in Carlsbad, California.
Our members have a wide range of online businesses ranging from a data scientist with a passion for Teslas to a former electrical engineer who reads 7 books a week, then summarizes them in videos. We have coaches, podcasters, bloggers, marketing experts and video specialists.
If you are interested in joining us, please visit our SD Entrepreneurs Facebook Group or www.sdentrepreneursgroup.com, which links straight to the Facebook group.
You can also check out Pat Flynn's video on YouTube