Like it or not, we are now in the digital economy.
The coronavirus pandemic and resulting lockdown around the globe changed most people's daily habits to something unrecognizable. People had to work from home, others couldn't work at all because their job entailed close physical contact with others.
But, for some people, it was business as usual.
These were the people who had built an online business or knew how to take their business online.
Now, I not talking about Amazon or Facebook, I am talking about thousands of entrepreneurs who have chosen to build their business in the digital economy.
They have built their audience and find their customers through podcasts, blogs, and YouTube.
They communicate to that audience through Instagram and Facebook.
They sell products and services exclusively online. These range from online courses and membership programs to e-commerce operations selling skincare and health products.
Some, don't even have their own products, instead, they are affiliates for other companies. They promote online courses, software, and electronics for up to 40% recurring commissions.
These are the Silent Earners
Here is an example of a yoga teacher, who didn't give up, because she knew how to take her business online.
"Last week – was horrendous, I'm not going to lie…. closing our yoga studio doors, for who knows how long, is daunting when this is our main income stream, but…we have a backup plan.
My yoga studio – has been running for 10 years based around face-to-face classes.
Now, in less than 24 hrs, we have gone completely online via live-stream Zoom classes and mini-courses.
Fortunately, I have been building an online business on the side and I have created several paid mini-courses online.
These mini-classes and courses have just instantly become an 'add-on' free library as a way of keeping our regular monthly members on board.
They now have access to our classes in real-time plus a whole library of content there to thank them for not canceling their membership
Not the first thing that comes to mind when you think about an online or digital business.
A more conventional online business owner is Pat Flynn of Smart Passive Income.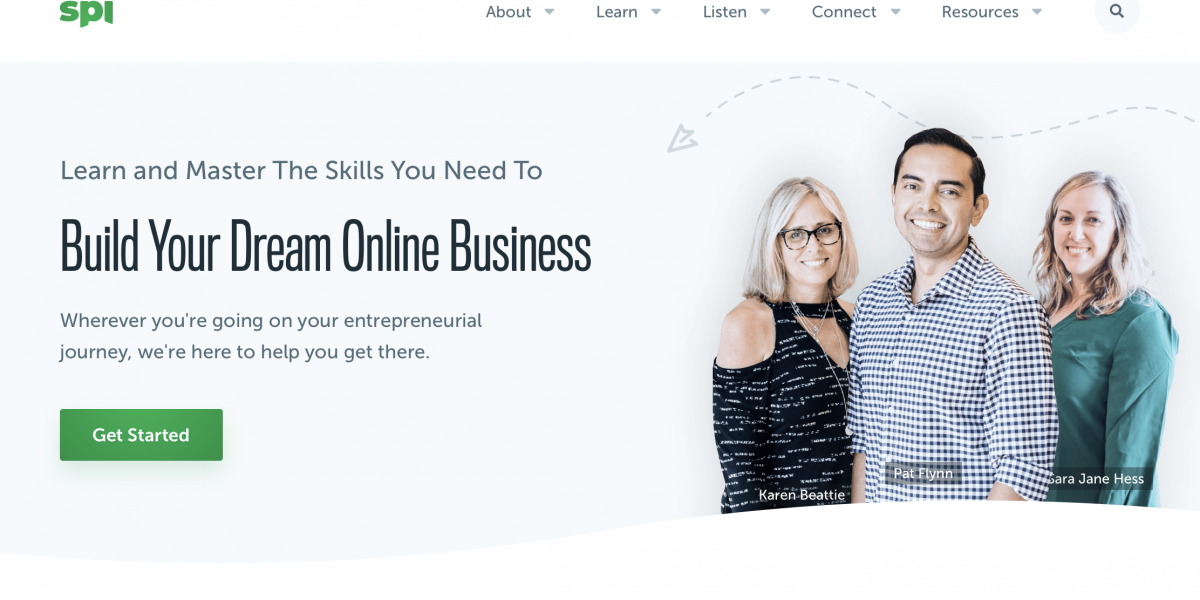 Pat built up a multimillion-dollar online business on the back of a blog promoting software tools. He now has a top-rated podcast and several highly successful online courses.
Pat has worked from home for many years. He employs a virtual team that also works from home. Business hardly changed for them.
They were still able to produce blog articles and podcast episodes and send out emails to their audience. Pat's students still had access to their course material through the online learning platform.
It is also worth noting that Pat set up his online business when he was laid off from an architect's office during the last recession.
Sometimes, an opportunity presents itself when you most need it!
How Do You Start An Online Business?
Fortunately, it isn't as difficult as starting a traditional offline business. You don't need premises or staff. You don't necessarily need a product to start with.
What you do need is a plan…..
I recommend by first checking out my free mini-course, How to find your first 100 leads for your online business in 30 days or less.
You might think 100 leads doesn't sound very much, but these are 100 people who are ideal customers for your product or service and are highly likely to buy.
Here are some examples of what you could earn:
If you promote a software product as an affiliate, as I do with Kartra and ConvertKit. Kartra pays 40% recurring commission on a $99/month product. Income per year from 100 customers = $47,520
A $97 online course would bring in $9,700 if you enrolled 100 students.
A $29 per month membership program would bring in $34,800 in income every year with 100 members.
I think there are only THREE skills required to majorly win in this digital economy.
Those skillsets?
Create for online
Sell online
Serve online
If you are going to create a product, there are only *FIVE things* that I would create and sell if I were you. You don't need to create and sell all 5, but knowing these are the most popular and 100% virtual – no travel, no inventory, no office required – will really help you.
These are:
Virtual group coaching,
Paid live training,
Online courses,
Webinars (usually free, but with the option to sign up for a paid program)
Monthly paid memberships/subscriptions.
Brendon Buchard, New York Times Best Selling Author