YouTube is a Serious Platform!
Cisco years ago did a report that said by 2019, 80% of the internet will be video.
Google just had a conference and released some new stats that Youtube is at 1.8 billion monthly active users that are logged in and watching over an hour of content per day on mobile.
Fool.com, the investing site, actually looked deeper into some data and discovered that Youtube currently is growing almost twice as fast in monthly active users than Facebook.
Youtube's really on fire. There are more people spending more time on the platform more whether it's through the increase in Smart TVs or larger mobile devices. It'a become more mainstream for all ages especially teenagers, who are watching move YouTube than TV.
Quick disclaimer – this review does contain affiliate links to products that I recommend. I only recommend products that I have used and that I think could be beneficial to your business. I receive a small commission if you click on any of the links and sign up for the product or service, but that doesn't increase the price and may sometimes include special discounts.
So how do you make money on YouTube?
First, if you don't want to read through this article and instead want to learn how to build an income from YouTube, using sales and marketing funnels, please download my FREE GUIDE.
We know that video is such a dominant player that entrepreneurs and anybody that wants to build their influence online should be leveraging it.
However, it is not always obvious how you can make money. Unless you are PewDiePie or Casey Neistat, you are or unlikely to pull in a huge endorsement or sponsorship deals.
But, you can still make money, if you know how to do it. I am going to show you how using real examples of YouTubers who are doing just that.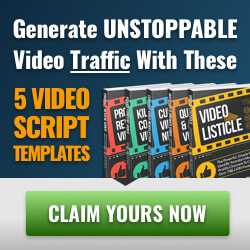 Affiliate Marketing
This is probably the easiest way to generate serious income from YouTube when you are just starting out. You don't need to spend time making your own products. Instead, you are promoting and selling other company's products for a commission.
Affiliate Marketing on Video falls into two main categories:
Promoting Physical Products
Selling Software and Information Products
Affiliate Marketing – Physical Products
No matter what niche you choose, there are likely to be physical products that you can promote through YouTube videos. By far the easiest way to earn an income, from being an affiliate for physical products on YouTube, is by producing unboxing videos and product reviews.
This can be electronics, jewelry, kitchen equipment, even garden furniture. With larger items, that need to be assembled, you can add "assembling the product" to your video portfolio. This is especially useful if you are promoting a product that is great when assembled but is a little tricky to build.
A good starting point is to sign up as an Amazon affiliate (Amazon Associate). You can then provide links in your video notes so people can go to Amazon to by the product you are showing them, earning you an affiliate commission.
Graphic courtesy of Sean Cannell
Speaking of Sean Cannell, he has a really good example of an affiliate marketing video that promotes physical products, but in a helpful way to his audience.
Check out his YouTube video "Gift Ideas for Him". The video is clever in that it addresses a real need – how to buy gifts for the men in your life – but also promotes affiliate product sales.
Sean offers a free Masterclass: 3 Strategies for Growing Your Audience and Income with YouTube in 2018
He also has a $7 course on how to make profit from reviewing physical products: Video Product Review Profits
Both are worth checking out.
You can promote, un-box and demonstrate pretty much anything. The higher value items such as TVs and digital cameras bring in higher commission but may sell in lower volume. Other items may be high volume but only for a short period, like new mobile phone releases or fashion items.
The commission rates Amazon pays aren't the most exciting, ranging from 1% for video games and consoles up to 10% for some fashion items. Even so, you only need to make one video to promote a product to multiple buyers. If the product is a long-running item, this can keep on giving.
Etsy is another platform that offers affiliate commissions. If you are not familiar with Etsy, it is an online marketplace where people can sell products they have created, mostly arts and crafts. As an affiliate, you can make 4-8% commission by selling other people's products.
The process is similar to Amazon, but the video process should focus on product detail and quality and maybe showing how the product looks in your home.
Affiliate Marketing – Software and Information Products
This is an area where many online marketers make their first income, including me. The commission rates paid for this type of product are usually much higher and can be recurring in the case of subscription software and membership sites.
As an example, if you get someone to sign up for a $100 per month software subscription that pays 30% commission, that can earn you $360 per year.
The best way to promote this type of product is through tutorials, that show people how to use the product, or a review of the product's main features. A comparison of two or more products is also a good idea.
Here is a link to a tutorial video I made on how to create landing pages using Karta.
Another good idea is to show how you use the product to perform a function in your audience'a business. You can further engage with your audience by offering a cheat sheet or mini-training on the product as an opt-in from your video.
You need to check that the product vendor has an affiliate program and is accepting new affiliates before you go to the trouble of making videos. If they have a program you should apply to be an affiliate. Once accepted, they will provide an affiliate link that you can add to your video notes. If someone clicks the link and signs up, they pay you a commission.
If you would like to learn more about how to build a business around Affiliate Marketing, I recommend that you check out Pat Flynn's course, 1-2-3 Affiliate Marketing
Note: I am an affiliate for this course. This is because I have gone through it and recommend it to anyone looking to learn from someone who has built a sizeable recurring income through affiliate marketing. I do earn a commission if you sign up through this link, but it doesn't cost you any more.
Selling Courses
This is more of an indirect result of using YouTube, but it can be quite lucrative. You use YouTube as a traffic source to drive traffic to a landing or opt-in page, where people can sign up for your course.
There are many examples of people showing their expertise and track record of success in YouTube videos. They then take people off YouTube onto their website and email list to sell courses.
People will also use YouTube to host mini training courses that give a taste of what is available in the paid-for course they sell.
Sunny Lenarduzzi talks about how she has built her YouTube business through a series of videos. She then links out to information about her course, "YouTube for Bosses" which she sells to people who want to repeat her YouTube success.
Pat Flynn has a series of YouTube videos giving people tips on starting a podcast. People who want to learn more can sign up for Pat's "Power Up Podcasting Course."
It is possible to combine this with Affiliate Marketing and sell someone else'a course. If you have gone through a particular course and found it useful, you can ask the course owner if you can be an affiliate. Like I did with Pat's courses on Affiliate Marketing, Starting an Online Business and Starting a Podcast. If you want to check any of these out, please click here. I highly recommend them.
From here you can put together a review video on YouTube.
Selling Membership Programs
This is similar to selling courses. You use YouTube as your traffic source. People view your videos, which may be examples of what is available in your membership site. This gets people interested and wanting more.
If they want more, they can become a member of your program and get access to more useful stuff that is constantly being updated and added to.
Branding, Sponsorship, and Placement
This is a great way to earn an income if you have an established YouTube channel with a large, loyal audience. If your specialty unboxing or reviewing products and you have built a decent sized subscriber base, you can often get companies to loan or even give you products to review.
If you are really well known, companies may even pay you to unbox or review their products. Just take care not to compromise your brand by doing something that won't appeal to your audience, or giving a positive review to a product you don't really like.
Advertising
Advertising, by signing up for Google Adsense, has been the staple income earner for many YouTubers over the years. However, Google has recently changed the rules on this as follows:
"You can apply for monetization at any time. To be reviewed, all channels need at least 4,000 watch hours in the previous 12 months and 1,000 subscribers. This requirement allows us to properly evaluate new channels and helps protect the creator community."
So this is no longer a way to make income from your videos from day one. If you do have a sizeable audience and subscriber base, you can choose to sign up and get yourself some ad revenue. It isn't going to make you rich on its own unless you find the next "Gangnam Style", but it will add to your other YouTube and YouTube-related income streams.
Patreon
If you don't know what Patreon is, check out the video on their home page:
Patreon allows you to get paid by running a membership platform for your fans. With the patron platform, you can offer exclusive experiences to your viewers that they pay for via a membership. It's like a VIP club for your most devoted followers.
It is much more effective when you have built up a following, but I have spoken to some YouTubers who say they earn several thousand dollars through the platform each month. You do need a fan base to really make an income from it, but it can work and is also a way for your fans to "give back". Also, if you can make money from Patreon, it demonstrates that you have a "loyal" fan base, who is happy to be a part of your brand.
Further Reading
I hope this gives you some ideas of how you can earn an income from your YouTube channel. If you want to learn more, please
download my Free YouTube Sales and Marketing Funnels Guide, which will take you through the actual steps you need to take to turn your YouTube viewers and subscribers into customers so you can start earning an income.