Smart from Scratch is an Online Course, put together by Pat Flynn of Smart Passive Income. It is designed to help you find and test your online business niche. If you are considering enrolling in this course, you should find my Smart from Scratch Review helpful. I hope so.
What is the "Smart from Scratch" Online Course?
Smart from Scratch is an online course, by Pat Flynn of Smart Passive Income, that takes you through how to select a niche for your online business.
It is designed for people who have a desire to set up their own online business but aren't 100% sure what they want to focus the business on.
I was fortunate to be part of the Smart From Scratch Founder's Group and was able to go through the course with Pat and around 120 other students before the course was formally launched to the public.
I have remained in the Smart from Scratch Facebook Group and seen how subsequent students benefitted from the course and also where they struggled.
Who Will Benefit from Attending "Smart from Scratch"?
The course is squarely aimed at people who are just starting their online business and need some help choosing and testing their business idea.
That idea may be a specific niche for a blog. It could be a product or course or maybe a membership site of some kind.
Some may have one or more basic ideas of what they would like the business to be about. Others may have already started a blog in a particular niche or have a product idea, but want to be sure they have selected the right niche. Some may not really know what they want to do, only that they want a different lifestyle and see an opportunity to achieve that through online business.
In my case, I knew what I wanted to do at a high level, but wanted to be more specific in my focus. I also wanted to be sure I was in a space that wasn't too crowded and where I had the potential to earn an income.
If you fall into any of these categories, this course will be worthwhile attending and you will learn a lot.
Be prepared to have your idea fully validated with the possibility that you might come out of the course with a completely different game plan, as many students did because your first idea wasn't the right one. This will save you a lot of time in the long run.
If you need need to validate your online business niche idea before you invest a lot of time and money, this is the course for you.
How Is the Course Organized
The course is organized into a series of lessons delivering material through videos, with supporting materials and worksheets.
People were able to work at their own pace, although Pat deliberately released the course in three stages, to ensure that people took the time to complete the tasks and worked at the same pace as far as possible.
The lessons take you through a series of logical steps, from understanding what you want to do and why, through to validation through market testing. In the early stages, Pat gets you to analyze what really interests you, your passion if you like, which I found particularly useful.
What surprised me was the diversity of business ideas that people were evaluating. Even though this was an introductory course, many of the students had well-defined business ideas in a specific niche, but just weren't sure about the next steps. Even so, this wasn't an issue, because the content and structure of the course are designed to suit different business models.
Be prepared to work through some exercises that really make you think. You also need to be prepared to revise your idea or even go back to the drawing board, but this will save you wasted time and effort further down the road.
I expect some people didn't stay for the whole course, but this is normal. Those of us that did definitely saw the benefits.
My Thoughts and Recommendations
Overall, I found the course to be very helpful.
Two things that stood out were:
The private Facebook group, where the students could post questions and ideas and give each other feedback.
Pat also arranged regular "office hours" which he hosted personally.
This gave us the chance to share our business ideas and get Pat's feedback and suggestions. We were also able to encourage each other and critique each other's ideas.
Pat was always available to help and give guidance throughout the course. We were also able to help each other validate our ideas, which was really valuable."
If you would like to check out the course for yourself, here is a link to the sales page.
"[As an affiliate for Pat Flynn and Smart Passive Income, I receive compensation if you purchase through this link. I am an affiliate because I believe in this course]"
Will it Fly
Pat has always emphasized how important it is to choose your online niche carefully. This dates back to when he first set up his blog "Green Exam Academy" which built a following by showing people how to pass a particular exam in the architecture field.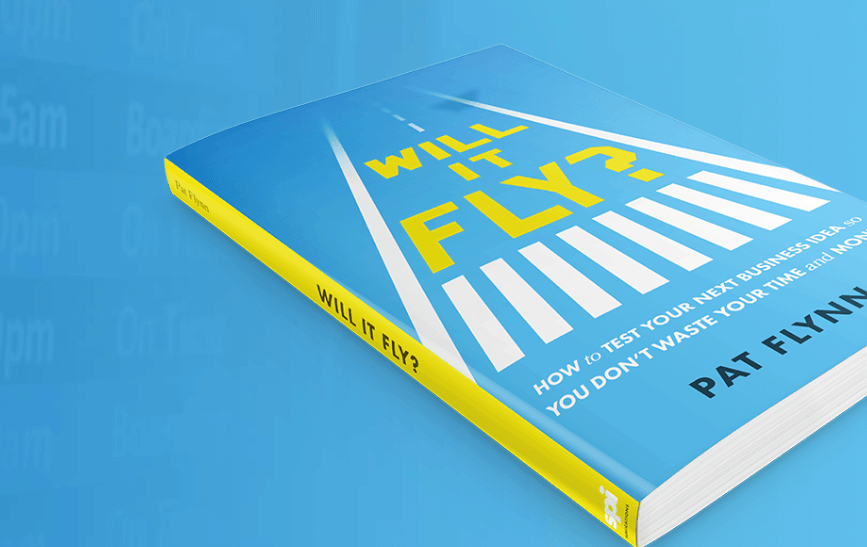 Last Year, Pat released his book, "Will it Fly", which takes people through how to select and test a niche for their new online business.
"Will it Fly" became a Wall Street Journal bestseller and is a must-read for anyone who wants to set up an online business.
Smart From Scratch uses a lot of the exercises from "Will it Fly" and Pat shares key sections from the book with his students as part of the course material, so there is no requirement to purchase the book.
Even so, I would recommend doing so. "Will it Fly" is a great companion for the course and expands on many of the ideas presented during the course.
Will It Fly? How to Test Your Next Business Idea So You Don't Waste Your Time and Money
I am happy to answer any questions you may have about the course. I expect the course to be well subscribed because of Pat's following, but if you are unsure if it is for you, I am happy to help. Please post these in the comments box below and I will reply as soon as I can.