You have spent time, blood, sweat and maybe some money building your email list. So what do you do to welcome your subscribers aboard and keep them interested? What is the first email you should send to a new subscriber?
Rather than just sharing my experience on the subject, I thought you would be more interested in seeing how the experts do it. I have carried out considerable research into people who have built large lists to understand who really provides value and creativity in what they send to their audience.
I am not talking about people who immediately try to sell you something. That is definitely not what I recommend and is more than likely to result in people reaching for the unsubscribe link.
The real winners are people who take time to learn about what their audience is interested in and provide them with relevant information.
Signing up for other people's emails – Learn from the Experts
One of the first things I did, when I was setting up my online business, was to subscribe to email lists of many of the respected leaders in my field. People like Pat Flynn, John Lee Dumas, Ramit Sethi and Amy Porterfield.
My reasoning?
I wanted to see what they would send me, what they would ask or offer me, so I could learn from them. After all, they all have large lists and a devoted audience, so they must be doing something right.
I encourage you to do the same. Take note of the regularity of their emails, their length, and the content. Study the language they use. In the best cases, it is very conversational and personal. You feel like you are hearing from a friend.
Learning what is relevant to your audience
It is very important to learn something about your subscribers very early on.
Where are they in their business development?
What interests them?
How can you help them?
Knowing this information will allow you to only send them information that is relevant to them.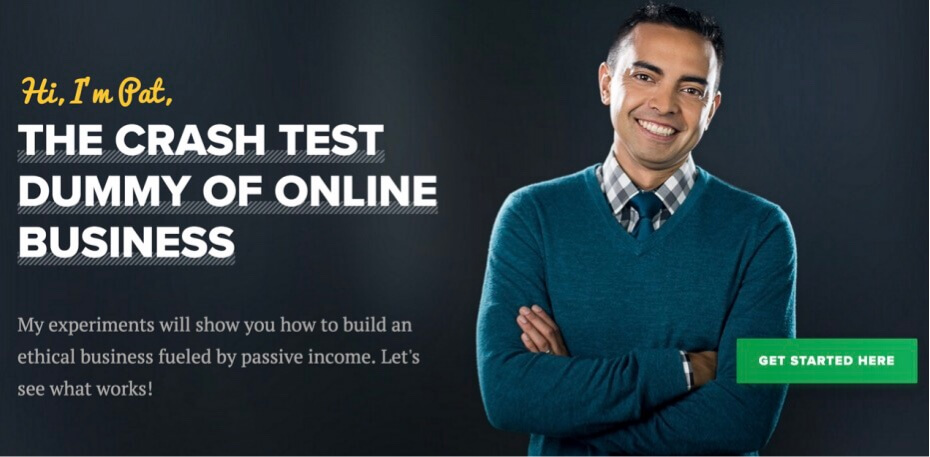 Pat Flynn from Smart Passive Income does this in his first email to new subscribers as follows:
In order for me to send you emails that make sense for you, I need you to start by clicking on the ONE answer to the following question that best suits you:

Which of the following best describes your online business activity?

Click on the ONE answer that best describes you:
• I don't have an online business yet.
• I have an online business, but I'm stuck between $0-$500 per month.
• I have an online business that is generating more than $500 per month.


Click on one of the above, and you'll be taken to a landing page with more information about that particular segment and what you can look forward to. Also, there's a question for you to answer there, as well.


From then on, I'll happily send you more emails that best suit you.


Thanks so much, and if you've read this far…go back up and let me know which answer best fits you! 🙂
Cheers,
Pat
This is just an excerpt from Pat's intro email. If you want to read the rest, I suggest you sign up to Pat's email list at www.smartpassiveincome.com. You will learn a lot.
This should give you the idea what you need to do. The questions you need to ask may be different, depending on the type of business you have. Pat will take the responses people click on and use them to place his subscribers into groups so they only receive information from him that is relevant to their stage in their business.
Give Something Away for Free
It is likely that you used some form of a giveaway to get someone to sign up for your email list. Even so, giving them something else after they sign up is a nice extra touch.
John Lee Dumas of "Entrepreneur of Fire" does this particularly well:
Heyo! Super stoked you're fired up and ready to rock with not only the Fire Nation Newsletter, but also the 3 gifts I have for you!
But first up: make sure you add us to your Safe Senders List – that way you won't miss any of the value-packed emails we have in store for you!
And if you use Gmail and we landed in promotions, drag us into your primary tab, please!… like this:
image


Alright, let's get to it – your 3 gifts!

1. 11 Habits of successful entrepreneurs
Plus, how to make them habits!

2. $500 Question
Top entrepreneurs answer the $500 question…

3. EOFire Resources guid
Every resource you need to IGNITE your entrepreneurial journey!

Enjoy your free gifts, and I'll catch you on the flip side!
JLD
You will also notice that JLD asks his subscribers to perform a couple of actions so they will see subsequent emails from him, rather than them heading for the spam folder.
Again, I encourage you to visit www.eofire.com and sign up to John's list. He gives a lot of valuable content away for free to his members.

Michael Hyatt takes a similar approach by offering something free to follow on from the ebook he gave you for signing up. Rather than offering something to download, he offers the opportunity to take a free test:
Since you downloaded my Achieve What Matters in 2017 ebook, I thought you might be interested in another free resource — the LifeScore Assessment. It's easy to take online, and you'll have your results in 10 minutes or less.

The LifeScore is designed to answer this question: If your life were a game, how would you score?

Games give us an effective way to size up our progress, but life is usually messier than that. And yet, we need a way to monitor how we're doing in different areas of life. After all: "What you don't measure, you can't improve."

So if you're trying to determine what you want in 2017, get clear on your next steps by discovering your unique LifeScore now.

Warmly,
Michael
I don't know if Michael or his team have access to the results of the test, but if they do, it will provide them with valuable information about their subscribers so they can send them relevant information.
Again, I recommend that you visit Michael's site at www.michaelhyatt.com and subscribe to his email list. When you first visit the site, you will notice that he uses a "welcome gate". This page only appears the first time you visit and offers you the opportunity to subscribe in exchange for a free download. I discuss this in more detail in my article:
Building an email list from scratch
You can also view my welcome gate by clicking here. This is a great way to attract new subscribers.
The Follow Up
So you have your subscriber and you have introduced yourself to them. You have maybe given them something for free and asked some questions about them. What do you do next?
If you work like most leading online marketers, you add them to an email sequence. This may sound a bit impersonal, but it isn't really. Especially if you continue to be light-hearted and conversational in the emails you put together.
If you don't know what an email sequence is, it is a series of pre-written emails that are sent out at set time intervals to your subscribers. The emails are designed to follow on from each other. Sometimes, they can even form a mini-course.
I recommend sending out sequence emails once a week and try to avoid actively selling. I have worked in sales and sales management for many years and the market is definitely moving more towards nurturing rather than selling these days. There is no harm in promoting a product by giving it a glowing endorsement based on personal experience, but it is best when combined with some valuable information that is related closely to that product.
Setting up an email sequence is relatively easy to do with modern email automation software. Products such as ConvertKit, Mailchimp or Drip are all built to do just this. I recommend Drip if you are just starting to build your list. It is very powerful and simple to use and is free for the first 100 subscribers, so you can get acquainted with it without breaking the bank. If you want to try Drip out, click here
The Storybook Approach
Some people leverage the Storybook Approach to sending emails. This works a bit like a soap opera or mini-series, where each email reveals what is coming in the next email, to keep the audience's attention throughout the email sequence.
Andre Chaperon does this particularly well:
Here's a taster of what I'll be sending you over the next 10 days to help you "level up" your email chops…
* Better Email: Part 2 of 5 (Email #2)
* Better Email: Part 3 of 5 (Email #3)
* Better Email: Part 4 of 5 (Email #4)
* Better Email: Part 5 of 5 (Email #5)
* My "Evil" Experiment: Part 1 of 2 (Email #6)
* My "Evil" Experiment: Part 2 of 2 (Email #7)
* Business.com (Email #8)
* Superhero Email (Email #9)
* Make Someone Hungry: Part 1 of 2 (Email #10)
You don't want to miss the "evil experiment" or the Superhero Email. Just saying.
Plus there's more.
Lot's more.

But more about that later.

Anyhoo…

Tomorrow we get started on how you can seriously "LEVEL UP" your email marketing. Big time.
This can also be treated like a mini-course, but whichever way you see it, it can be a great way to keep your audience wanting more. At the end of each email, Andre tries to leave a taster of what is to come in the next 'episode'.
If you want to learn more about Andre and his emailing techniques, you can visit: https://andrechaperon.com
Summary
I hope this gives you some ideas on how to interact with your email subscribers to get them interested and to keep them wanting more. Your email list is probably your more important asset and if you can convert them into 'raving fans,' they may just help your business succeed.
Useful Resources
ConvertKit article: 3 Strategies for your first email sequence
Video from Pat Flynn: Pet Peeves That Turn People Away